iPhones are equipped with an inbuilt proximity sensor that helps to prevent you from interacting with your screen while on calls.
The sensor automatically turns the screen off whenever it detects the presence of an opaque substance in front of the phone's screen.
But how do you disable the proximity sensor on your iPhone?
Can you disable the proximity sensor on your iPhone
Unfortunately, you cannot disable the proximity sensor on your iPhone because it is inbuilt and made to function automatically throughout your iPhone's lifetime. The only thing you can do to your iPhone's proximity sensor is to ensure it's perfectly working.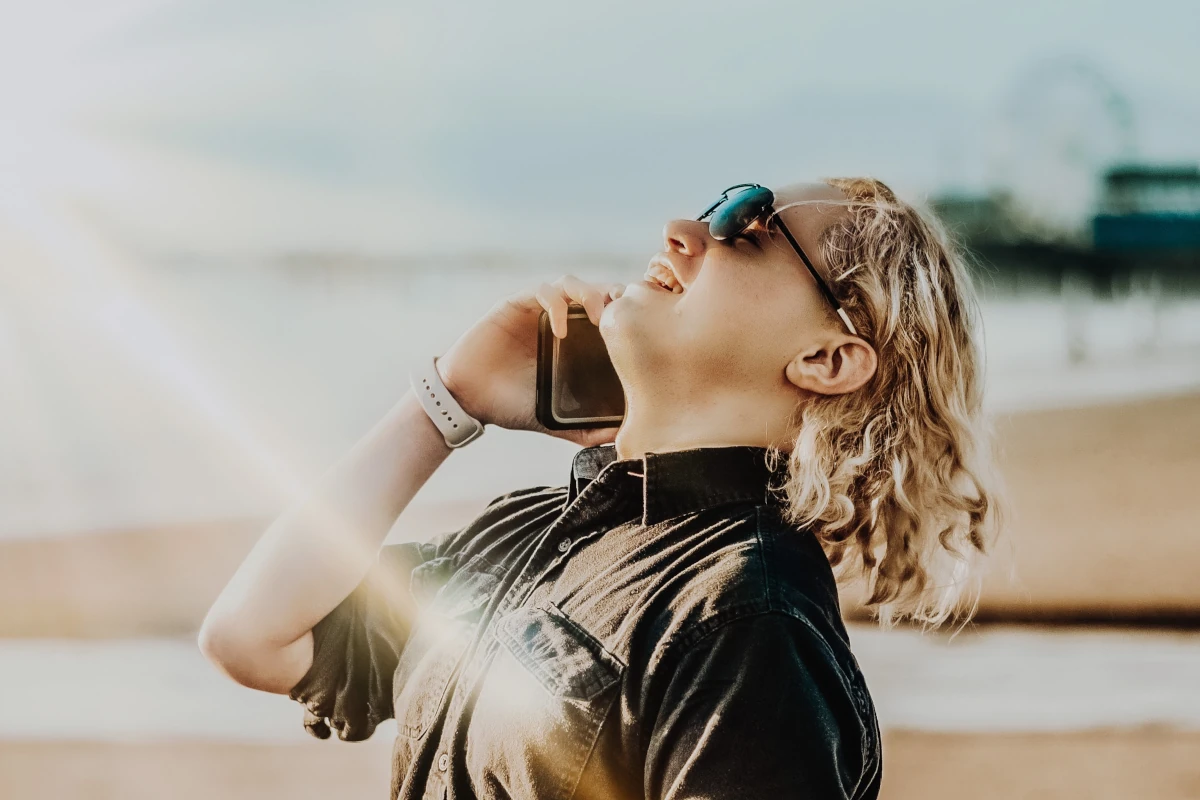 Besides preventing you from interrupting the screen while on call, the sensor acts as a battery saver.
Sometimes, this sensor can get ridiculously sensitive and cause you frustrations. Some iPhone users have complained of the screen turning off when they get within three inches near the top half of the display. 
The touch screen behaves funny by activating music, camera, email, recordings, location, and other functions that may or may not interrupt your calls. 
In addition, other users point out that the sensitivity issue came after updating their iOS version. Whatever the scenario, a sensitive proximity sensor is a turn-off, especially if you don't know how to fix the problem. It is thus a very crucial detector in your iOS device.
Where is the proximity sensor on my iPhone?
The proximity sensor on your iPhone is visible on the top corner of your phone's screen. It is usually seen as a tiny dot above the phone's speaker. Hold the screen at an angle if you can still not see the dot. You will see a feature covered by the display glass just near the speaker. It resembles a small hole or a bubble.
To check if the proximity sensor is functional, stand in front of a mirror and make a call. If your phone's screen dims when you lift the phone to your ear, then that means the sensor is working effectively, and vice versa.
How to disable the proximity sensor on my iPhone?
The first thing to note with this sensor is that you cannot disable, reset, or adjust the function of your device. And even if the sensor annoyingly turns off your phone screen, and you desperately want to disable the part, it is not possible. 
Upgrading to a newer model is also a vain attempt. All the iPhone generations beginning the 2007 release have a proximity sensor. So you have to learn how to fix its troubleshooting problem.  
If your proximity sensor is annoying you by switching off your phone's screen now and then, you can fix the problem. The functionality will help detect when your ear is almost touching the screen, thus preventing the unintentional pressing of other buttons. 
But to fix the proximity sensor on your iPhone, you have first to know its location. As I stated earlier, the sensor is that tiny dot you see above your iPhone's speaker on display. 
So what are the tips for fixing the proximity sensor on your iPhone? Check out below.
Restart Your iPhone On/Off
Turning on and off your device has always resolved troubleshooting issues in devices. It quickly returns the functionality of your phone in seconds. The proximity sensor will also resume normal operations if you restart the device. 
Hit and hold the power button off for a couple of seconds and slide it to the right side of the screen. Wait patiently for a minute and then turn on the device.
Inspect your proximity sensor to find out if it is still over-sensitive. If this trick doesn't solve your iPhones proximity sensor, consider a Force Restart.
Force Restart the Device
A device's Force Restart deliberately disconnects power from its battery to the hardware. The phone loses power and shuts down. This process fixes most troubleshooting issues, including that of the proximity sensor. Force restarting your iPhone also frees up memory and makes the hardware work again.
If you aren't conversant about how to Force Restart, it depends on the iOS version you are using. 
iPhone 6 and earlier: Long press the Home button and the Power button simultaneously until an Apple logo appears. 
iPhone 7 or 7 Plus: Long pressing the volume down and power/lock buttons simultaneously until you see the Apple logo.
iPhone 8 or later: Long pressing and releasing the volume up button, press and release the volume down button. Press and hold the power/lock button again until the Apple logo pops up.
In all the iPhones, immediately you see the Apple logo, you should release the buttons and wait to see if the problem goes away.
Groom Your Phone and Its Case 
When last did you clean your iPhone and its case? Dirt may be interfering with your iPhone's proximity sensor. To clean your phone, you need a dry and lint-free cloth. 
Remove your device's case and also its screen cover. Clean the display by wiping, taking note of the most important detail; the proximity sensor. 
Above the speaker, you will see a tiny dot. That's the sensor. In addition, groom the case, and replace the screen protector. After all these treats for your buddy, you should see improvements on your proximity sensor.  
Replace Cracked Screen 
A cracked screen exposes functions like the proximity sensor to dirt and debris. The sensitive part will malfunction and become more aggressive and frustrating. 
If the crack is on the upper part of the display and right at or near the tiny dot with the proximity sensor, your iPhone will give you a headache. 
Set aside a budget to replace your iPhone screen to continue enjoying this unique functionality. Pop into a service repair center to have the right personnel replace your phone's cracked screen
Update Your Operating Software
You have switched on and off your device, tried to Force Restart, and even gone an extra step of grooming your iPhone. All these are for the sake of solving the proximity sensor issue. It is time you consider updating your iOS to see if the frustrating episodes will fade away. 
Solving your phone's software issue helps to refurbish your phone's functions, the proximity sensor being one. Apple invests heavily in free and regular software updates for all its software. Many users forget to utilize the updates, which affect their phone's performance.
With the regular updates in place, you can solve this ranging problem and many others with iOS. The updates optimize your iPhone's performance, where all the apps are up to date. You will notice a very significant change in your phone's proximity sensor.
Restore Your Device From iTunes
In other words, you will be factory setting your iPhone. Since everything else has failed, you can try this trick before you move on to replace the proximity sensor. It also means your device will have all your data and settings in the device's memory. 
Your contacts, photos, documents, time settings, programs you installed, and several other files will go away for good! Before you consider factory resetting your iPhone, you should always have a backup plan. Anything that you erase during this process is irreversible.  
After carefully backing up your data, try these few steps;
Step 1: Connect the iPhone to the computer then open iTunes.
Step 2: Jump to the summary tab and click "Restore." Wait for the process to execute.
Fix or Replace iPhone Proximity Sensor
The final solution will replace your iPhone's proximity sensor functionality when every tip above fails. It may be completely damaged beyond repair, meaning that it will never work again no matter how many answers you try out there. 
There is no way you will disable or pause the sensor as it is set to function on your iPhone without adjustments. You have the option to remain with a malfunctioned component or fix it to continue enjoying the functionality. 
Enjoy your Apple warranty if it is still valid, or reach out to technicians to handle your device. They will get a new proximity sensor for your iPhone for free or at an affordable price. 
How do I reset the proximity sensor on my iPhone?
iPhones come with quality functionalities such as proximity sensors. That means the device is free from flaws, and if they are there, they are rare. Some components will still fail and force you to bite your tongue because of disappointments. One of these is the proximity sensor.
The device is inbuilt and detects close objects near the phone's display. If this function breaks or jams, you will have a touch screen that disables off an object within the screen's proximity. The consequences are cutting off a call and playing music unintentionally, among other flops. A Proximity sensor does not come with a reset, adjustments, or a feature to turn it off in case of a hitch. Whereas you can choose to ignore the issue, it isn't very pleasant and thus requires resolution. The only solution is to fix a few as follows;
Restart your phone by turning it on and off.
Force Start your device
Replace cracked screen.
Update your phone's software.
Factory reset.
Total replacement of the proximity sensor hardware.
You cannot disable, turn off or adjust your iPhones proximity sensor. Suppose the detector stops sensing objects near the screen or becomes extremely sensitive. In that case, the music play button will activate, your ear will hang up or dial a call, among other annoying incidents. 
You don't have to put up with a proximity sensor hitch. I have expounded up to seven fixes to try to fix the error. It can be as easy as cleaning your iPhone and its case or returning the device to the Apple shop. 
Your device's warranty could be expired, so you have to pay a tech to handle the sensor. Investigate whatever works best for you to fix the hitch professionally. Above all, you will be able to enjoy Apple's sophisticated mobile devices with no technical hitch.
Sources
How to fix or reset the proximity sensor on your iPhone if it's not working properly
Turn off proximity sensor on your iPhone
Any way to turn off proximity sensor on iPhone XR?
What is the most user-friendly, easy-to-use project management tool available for remote teams?